About
esc Aerospace is a product neutral systems integrator and product developer.
Our primary objective is to build close and lasting relationships with our clients,
understand their needs, and build and deliver solutions that meet those needs.
Who We Are
The esc Aerospace group of companies has over 20 years of experience and is highly respected in innovative R&D and as a product-neutral systems integrator with headquarters in Munich and Prague. In 2018 the esc Aerospace owners founded esc Aerospace US, Inc. to better serve the North American market.
All three esc Aerospace companies are independently owned and operated to better serve specific customer requirements.
IT, OT, Cyber & Enterprise Security
Processes (IT, OT, products)
Strategy consulting (interim security management staffing, CISO)
Project management
Assessment, design, improvement & audits (ISO 27001)
People
Tailored user awareness
Training (product & process)
Technologies (Concept, PoC & implementation)
Network: Firewall, IDS, IPS, Vulnerability Management and Scanner
Endpoint: AV, exploit prevention
Corporate Information Security:
Enterprise Integrity Management (escEIM™), Data Leakage Prevention (DLP), Data Protection (GDPR)
Command and Control, Sensor Integration, Autonomy, Counter UAS
Custom Development
Aerial targets
Custom UAS development
Command and Control
Application/Mission
escCUAS™ – Counter UAS
escMSAP™ – Multi Service Aerial Platform
UAS Traffic Management (UTM) integration
Where We Are
esc Aerospace is headquartered in Munich (Germany) and Prague (Czech Republic). esc Aerospace GmbH and esc Aerospace s.r.o. are Small / Medium Enterprises (SME) according to European and national classifications. Our company esc Aerospace US, Inc. is a Small Business Concern (SBC) and has its headquarter in Orlando, Florida.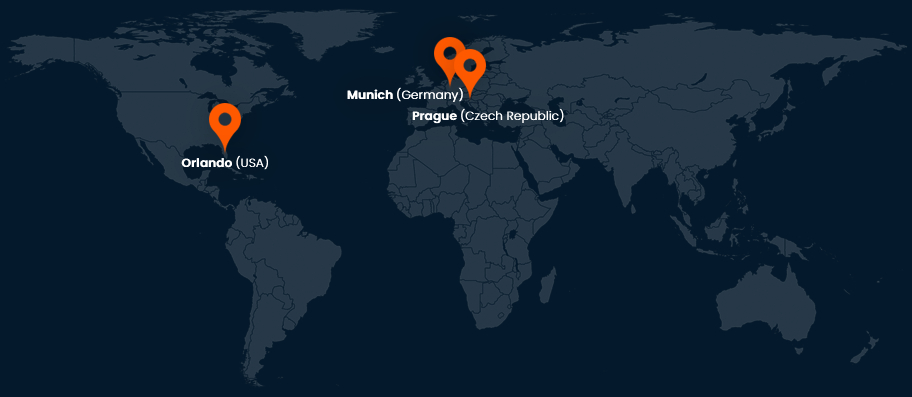 Our History
esc Aerospace started more than 20 years ago under the name evolving systems consulting (esc). A few years later all aerospace and security activities of the esc group of companies were transferred to the newly founded esc Aerospace companies in the US, Germany and the Czech Republic.
The founders and executives of esc Aerospace have decades of experience in senior management, business development and technical leadership positions with global prime contractors like Lockheed and Airbus. The vast majority of our staff holds academic degrees and are well-known experts in their field of work.
2018 (Demo)
2018 Foundation of esc Aerospace, Inc. and esc Aerospace US, Inc. in Orlando, FL (USA).
Management
Certification
esc has implemented and maintained a quality management system based on ISO 9001:2008 Quality Standards certified by DNV GL. The quality management system of esc covers all phases of the software research & development process and professional consulting services.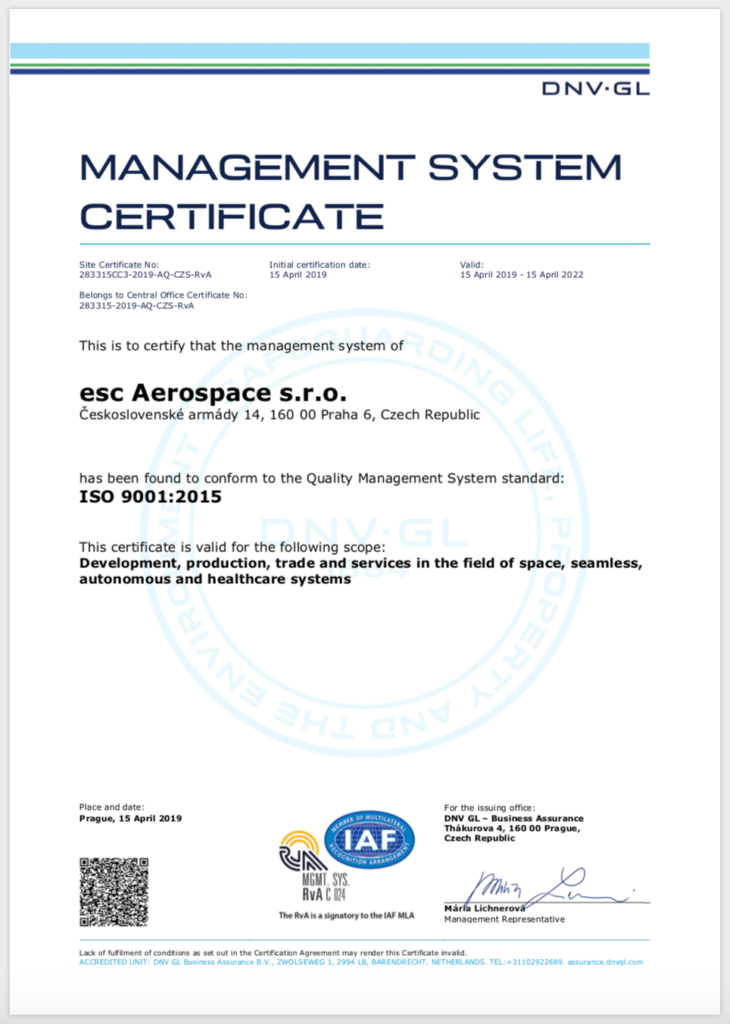 Memberships and Associations